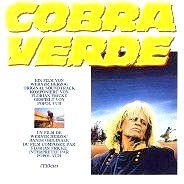 COBRA VERDE
LP 1987 Milan A 353, France
CS 1987 Milan RC 550, France
CD 1987 Milan CD 353, Austria
CD 1991 BMG ARIS 881 309
CD 2006 SPV 085-70262
Der Tod des Cobra Verde (La mort de Cobra Verde) 4:40
Nachts: Schnee (Dans la nuit, la neige) 1:45
Der Marktplatz (La place du marche) 2:30
Eine andere Welt (Un autre monde) 5:00

Grab der Mutter (L'Enterrement da la mere) 4:35
Die singenden Mädchen von Ho, Ziavi (Les jeunes chanteuses de Ho, Ziavi) 6:45
Sieh nicht überm Meer ist's (Ne regarde pas au-dela de la mer) 1:35
Ha'Mut, bis dass die Nacht mir ruh und Stille kommt (Courage jusqu'a ce que la nuit apport le repos et la tranquilite) 9:40
Personel: Florian Fricke (piano, synklavier, vocal), Daniel Fichelscher (guitar, percussion, vocal), Renate Aschauer-Knaup (vocal); Gäste: Kristen Riter (in: Der Tod des Cobra Verde), Imgard Hecker (in: Sieh nicht überm Meer ist's), Chor der Bayerischen Staatsoper.
Komponiert von Florian Fricke
Gespielt von Popol Vuh mit den singenden Mädchen von Zigi Cultural Troupe Ho, Ziavi
Aufegnommen: September 1987 (Union-Studios, München)
Sound programming Synklavier, Recording and Digital Mastering by Ralph Graf (Union-Studios)
Produziert von: Florian Fricke
Published: Autobahn Musik-Verlag, München
Text and Musik: Florian Fricke, mit Ausnahme: Die singenen Mädchen von Ho, Zigi Cultural Troupe Ho, Ziavi
Sie hören die Ballade von Francisco Manoel da Silva,
Dem Ärmsten der Armen, dem Banditen Cobra Verde
Dem Herrn über die Sklaven, der es zum Vizekönig brachte,
Er war der Einsamste von allen.

Francisco Manoels Mutter sagt
Francisco, mir tut alles weh.
Francisco Manoels Mutter klagt
Francisco, das leben verlässt mich, geh!

Elf Jahre nur Dürre ; der Felsen ist schlecht
Die Erde vertrocknet, das Böse hält recht.

Ich sterbe ; sei still, sonst kracht noch die Bank
In Melancholie. Francisco, sei still
Das Wasser, die Erde, die Sonne ist krank
Und Gott ist verwirrt, weiss nicht, was er will.

Fransisco, zieh weiter, am Himmel steht gross
Ein Ziechen : wirf kein blick auf das Meer !
Das Schicksal schenkt eine Geliebte nur bloss
Und ein Freund, die Erde ist Leer.
Ladies and gentlemen...
... you'll have to pay up
if you want me to sing
The ballad of Francisco Manoel...
... the bandit Cobra Verde...
... the poorest of the poor...
... the master of the slaves...
... It was he who became Viceroy
It was he who was the Alonest of the Alone.

Francisco Manoel's mothers sighs,
Francisco, I feel only aches and dread.
Francisco Manoel's mother cries
Francisco, leave me. I will soon be dead.

Eleven years of drought, the rocks are sick.
The world is dying. Evil is a trick.

I will die now. Be quiet, or the bench will crack
From sadness. Do not move. Stay still.
The water, the earth and the sun turn black.
God, in His Perplexity, pretend it's His Will.

Francisco, travelling, reads a line in the sky.
"Don't set your eyes on the salt sea shore.
Don't reason. Don't argue. Don't ask us why
Fate will send you a lover, and one friend more."